Railgen RPG by Stadco
Our Railgen RPG is a truly unique generator. Abbreviated RPG, these heavy-duty Rail Propulsion Generators are designed to power the multi-genset locomotives that are commonly used in railroad switching yards. Our diesel-powered Railgen RPG gensets have substantial advantages in fuel efficiency and EPA-controlled emissions when compared with traditional locomotive power plants, and that makes our field-proven generator technology desirable for use throughout North America.
Our proprietary Railgen RPG 500 500kW genset offers the following features and benefits:
Rail Duty generators for locomotive propulsion on genset locomotives
Most compact 500kW class propulsion genset on the market
Among the cleanest exhaust emissions in the industry
Unsurpassed fuel economy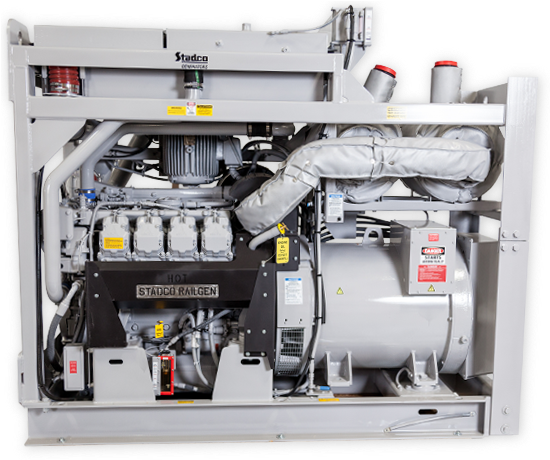 Our proprietary Railgen RPC 450 420kW offers the following features and benefits:
Tier 4 Rail Certified, Cummins in-line 6-cylinder diesel engine
2-bearing generator producing 420 kW
Designed for reliability and easy maintenance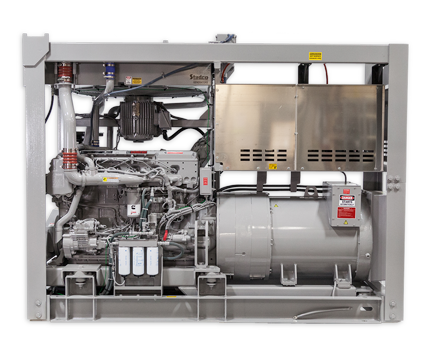 At Stadco we've been a manufacturer of mobile power systems for the rail industry since 1981. We are constantly improving our products and we're always eager to work with new partners to develop custom solutions for the rail industry. Here are just a few reasons we're a top partner of railway organizations around the world:
Reliable single-source supply partner
Comprehensive product support nationwide – Parts, Service and Rebuilding
Stadco designs, builds and supports all Railgens
Installation-ready designs
Field-proven designs
Volume production in multiple types of applications
If you're interested in learning more about robust, reliable locomotive power for your rail yard, please contact Stadco today. We look forward to discussing your needs and determining how our team can best help.