Cellpac By Stadco
Cellpac generators by Stadco are purpose-built for vehicle compartment duty. They are engineered from the ground up to provide a reliable, quiet source of AC power, and are perfect for use as auxiliary power for emergency, fire and mobile medical units. The Cellpac is an excellent generator for food trucks and concession trailers.
Cellpac generators are powered by Deutz or Mitsubishi diesel engines that range from 7 to 15 kW. They feature robust design details like a 4-pole brushless alternator and a digital control panel that protect your investment against wear and damage. Best of all, because CellPac is designed to be a mobile, compartment-mounted generator, all components are built to withstand the vibration of mobile duty.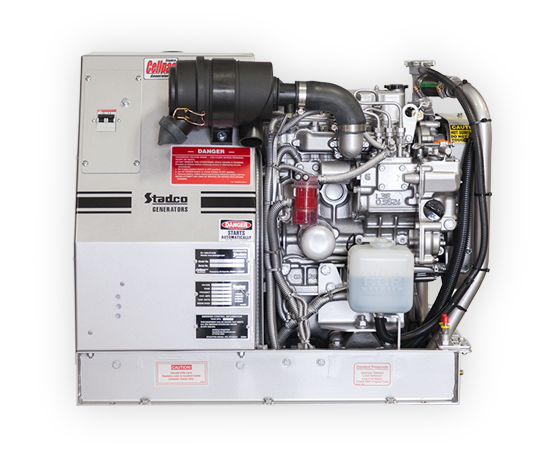 The compact configuration and patented cooling system of Cellpac is designed to be installed in small, enclosed, out-of-the-way vehicle compartments with zero-operating clearance. That means if it fits in the compartment, it runs in the compartment. Their combination of quiet, compact, and reliable performance means that you and your crew can focus on your critical tasks instead of thinking about the generator.
The patented design of the Cellpac cooling system is key to the compact profile and zero-clearance operation of the generator. The radiator is a robust, high-density, welded aluminum heat exchanger that's located inside a pressurized cabinet. As cool air is drawn in and circulated around the compartment by a fan located in the generator housing, heated air is ejected through the floor of the compartment. This design innovation makes Cellpac one of the only diesel generators on the market that can handle zero-clearance, compartment installations.
Application Gallery