Experience, Innovation & Service
Stadco is a third generation company of dedicated people resolved to conduct business with integrity. We know the value of the "Trust Factor" in the engine business. Thanks to our parent company, Stauffer Diesel, we bring broad experience, informed product innovation, and a commitment to service to every Stadco product.
As an independent wholly-employee owned company we are free to establish policies and practices that fit our customers' needs and create a strong basis for customer loyalty. Our employees realize that our most valuable asset is long-term customer loyalty.
Over 50 years ago, Stauffer Diesel was founded as a sole proprietorship focused on improving the operations of local dairy farms in Lancaster County, PA. The founder, Amos B. Stauffer, began by selling diesel engines and manufacturing diesel-powered refrigeration equipment. In 1963 the company was incorporated and structured to include the second generation. Many things have changed since then. The size and capabilities of the company have grown exponentially.
Today, Stauffer Diesel is a multi-generational company that has become a full-service distributor of Deutz and Mitsubishi diesel engines. The manufacturing division manufactures specialty diesel-powered electric generators under the Stadco brand name. Stadco generator systems have a legacy of robust reliability in various markets and are in service worldwide.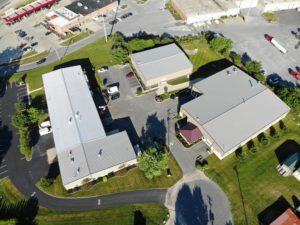 In 1985 we moved to our current headquarters in Ephrata, PA, to a facility that has grown to 38,000 SF of primary floor space. Our facility provides extensive services in the form of sales, product service, spare parts, engineering and manufacturing. Manufacturing has always been a part of SDI, but in 2006 we expanded that capability substantially with a new 18,500 SF facility dedicated to Stadco generator manufacturing.
At Stadco, we realize that long-term client loyalty is built upon a mutually beneficial relationship. Therefore we make a strong commitment to broad product knowledge, total full-service product support and historical records of all products we sell and manufacture. Our guiding principle is to be a one-stop shop for the products we manufacture. As such we offer comprehensive sales, parts, replacement, servicing and rebuilding services for all of our product lines.
We invite you to contact us today to learn more, and we look forward to having you become one of our many loyal clients.